Energy Therapy for Animals
Treatments are offered at my office, at the animal's home, at veterinary hospitals, and at a distance. Sessions last approximately one hour, but may be longer. Sessions include intake, assessment, treatment based on the assessment, aromatherapy, post assessment and follow-up. All treatments are confidential. Monday evenings I volunteer with Dr. Kim Martin at Hawks Prairie Veterinary Hospital in Lacey. If you make an appointment with Dr. Martin, you may request to see me also. At Hawks Prairie Veterinary, there is no additional charge for my services.
Energy Healing and Communication
If you would like to know more about what your animal friend (any species) thinks and feels, consider scheduling a distance session that includes communication with your friend. When I begin the healing work, I connect from my higher self to your friend's higher self. I listen to your animal friend and take notes during the healing session. At the end of the session, you and I discuss what your friend said and the treatment findings and outcome. Transcript included.
Distance treatments 

Energy healing sessions can also be done at a distance. Animals that cannot or do not want to be touched are treated at a distance of a few feet or thousands of miles away. I feel the energy and work with it in the same way I would if the animal were physically present. The animal is aware of the treatment. The body, mind, spirit, and emotions respond in the same way they would with physical touch. Distance work includes clairvoyant insight and communication.




I use Reiki, Healing Touch, Reconnective Healing and aromatherapy as needed. Results can include: reduced tension and nervousness; trauma recovery; improved behaviors; pain relief; and faster healing from surgery, injuries or illness.
Costs
Sessions at your home, at a distance, or at a veterinary facility begin at $75 per sessions (approximately one hour) and varies based on distance from my office.
Wanda Buckner demonstrates below how a Reiki session for an animal might look. Note the deep relaxation this dear dog experiences even in this short demo. Schedule a session for your animal (any species) here. Thank you, Charlie, for being my model. Thank you Jenny Hamilton for bringing Charlie and filming.
What to Expect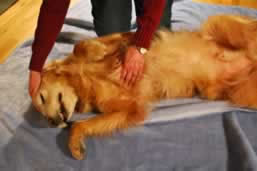 At the first appointment, I gather information on the animal's overall health and well-being and the reason for seeking energetic support.
I assess the animal's bio-energy field using a pendulum and my hands to determine where energetic imbalances, congestion, or depletion exist.  Procedures used are based on the information provided and the assessment.
During the treatment, I work in the bio-energy field above the body and also use touch on the animal's feet, legs, trunk, back, neck, and/or head. Benefits may be felt by the animal (and witnessed by the owner) immediately and increase over the next twenty-four hours. Chronic or degenerative issues benefit from a series of treatments.
Complementary Care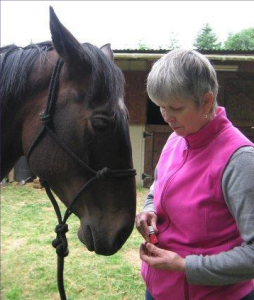 Energy healing complements veterinarian care to improve the animal's well-being and quality of life; it does not replace medical attention.