Events and Classes 
***February 8 (April 11; June 13; Aug 8; Oct 10; Dec 12) Guest on Jupiter Rising Show KKNW am radio. 11:00 a.m. to 12:00 noon***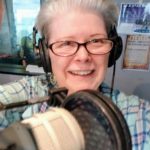 My Topic: When Empathy Goes Awry
Feeling your friend's joy when she wins the lottery is wonderful; feeling a stranger's pain, not so much. Where are you on the Empath continuum? Are you where you want to be? Enjoy a thought provoking discussion between Wanda Buckner and host Eileen Grimes. Join the discussion by calling in to 888.298.5569.
Tune in to the Jupiter Rising Show with host Eileen Grimes and co-host Doug Johnson every Saturday at 11:00am, on 1150KKNW.com
Listen live on the internet at 11:00 a.m.  Call in to 888.298.5569.  Listen to the archive of Wanda discussing Psychic Protection on the November 9th broadcast here
March 14 and 15 Usui/Holy Fire® Reiki I & II    

Instructor: Wanda Buckner, EdD, Reiki Master
9:00 to 6:30 both days. 3217 Lilly Rd NE Olympia WA 98506
This experiential 2 day class combines lecture, discussion, demonstration and practice throughout the day. Students give and receive complete treatments using Byosen scanning, the Reiki symbols, and the hand placement system. Wanda draws from her extensive experience with clients, Reiki and teaching to provide both practical and philosophical information and experiences. Students gain the skills and confidence to immediately begin using Reiki to heal themselves and others by the end of the class. The $300 tuition includes Reiki: The Healing Touch First and Second Degree Manual by William Rand, Wanda's book, Choosing Energy Therapy: A Practical Guide to Healing Options for People and Their Animals, and a Certificate of Completion. ® Holy Fire is the registered service mark of William Lee Rand. You can learn more about Holy Fire Reiki III here.
Tuition $300. 10% discount if paid in full ($270) by March 1. $75 non-refundable deposit to hold your space. Questions? Email Wanda at wandasoffice@gmail.com
April 18 Cosmic Awareness Fair    1o:00 a.m. to 5:00 p.m.  FREE featuring psychics, speakers, vendors.
Harmony Hall 9101 Steilacoom Rd SE Olympia WA 98513
I will offer readings for animals and people at my table by the minute.
I will speak on a topic to be determined.