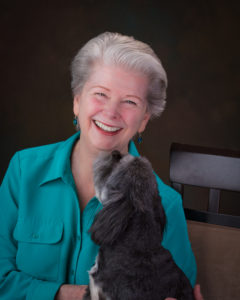 In 2005, I discovered I have healing hands. My friend decided to quit dialysis and all medications without a doctor's care. Within hours of stopping her medications, she became agitated, uncomfortable and unreasonable. I felt compelled to slowly move my hands about six inches above her body from head to foot. I repeated this until she calmed. My friend called the experience going to Nirvana, a higher state of consciousness where there is no suffering. At her request, I repeated the process once or twice daily until her death five days later.
My experience with my friend was so powerful I began studying energy healing. In 2007, I opened my business To soothe and to heal, now doing business as "Healing Energy Services," and offered sessions to clients.  The results were so astounding, I closed my Proposal Writing and Development business and became certified in the Healing Touch Program in 2008. In 2009, I completed Healing Touch for Animals Level 1, taught by the program founder Carol Komitor, and expanded my business to include treatment for animals and their people. This lead to coordinating the Healing Touch for Animals classes for four years and earning my certification. My business is now about half people and half animal. I volunteer with holistic veterinarian Dr Kim Martin every Monday evening and provide energy therapy for cats and dogs at Hawks Prairie Veterinary Hospital in Lacey WA.
Having experienced the power of Healing Touch, I explored other aspects of energy medicine. I earned my Reiki Master degree, studied Pranic Healing, Matrix Energetics®, Reconnective Healing®, The Reconnection®, ThetaHealing®, EFT (Emotional Freedom Technique), and Access Consciousness®. Each method offers additional avenues for accessing the healing stream that flows around and through us. I learned and practice Transcendental Meditation. In 2015, I completed my hypnotherapist training and certification and now offer client-centered hypnotherapy and self-hypnosis tools to my clients.
Connecting with the healing power of the universe opened my natural intuitive abilities, clairvoyance and clairaudience allowing me to provide insights to others. Clairvoyant readings allow people to look at themselves as if looking in a three way mirror. Readings allow people to see aspects of themselves they recognize, but hadn't noticed before. I also provide medium services, helping people get in touch with loved ones who have left this life.
In addition to my people and animal practice in Olympia WA and at a distance, I provide sessions at at Catherine Place in Tacoma, WA and am a Hypnotherapist, Reiki and Healing Touch Comfort Therapist for Assured Hospice.   I have published in Energy Magazine and Pet Connection Magazine.  I teach Animal and People Usui/Holy Fire II Reiki and Interspecies Communication at my office and through Pierce College Community Education. I am available to speak on energy healing to groups of any size. My book, Choosing Energy Therapy: A Practical Guide to Healing Options for People and Animals, (also available as an e-book) is available through this website and Amazon.
I volunteer with Kim Martin, DVM, at Hawks Prairie Veterinary Hospital in Lacey WA every Monday evening. I am a decade volunteer with my Maltese/Lhasa Apso canine companion, Sophie, in Providence Hospital's Animal Assisted Activities and Therapy program.
I am a member of the Healing Touch Professional Association, the Associated Bodywork and Massage Professionals, the Reiki Membership Association, the International Association of Reiki Professionals, and the International Medical and Dental Hypnotherapists Association.