Animal Healing Testimonials
The comments below reflect the experiences of my clients.
You are unique; your experience will be unique.
 Contact Me to schedule a session or complimentary consultation by clicking the button below: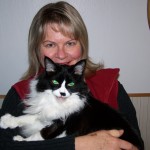 Christine had gone from 12.6pounds in 2010, to 10 pounds one year ago, to 5.3 pounds when you saw her. Christine has eaten THREE cans of cat food since you left! She has never finished more than a tablespoon in her dish, but she ate so much, I have taken to dumping a whole can out, and she has eaten all three. –Crystal Ashley, client
---
I have noticed a profound impact on animals' relaxation and trust when I combine acupuncture with Wanda doing Healing Touch for Animals® at the same time. My patients' response to therapy is enhanced and lengthened. Even the humans in the room feel better! –Kim Martin, DVM
---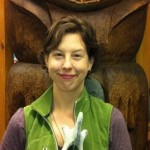 I am a veterinarian, veterinary spinal manipulation therapist and veterinary acupuncturist. Until very recently, I was working at Steamboat Animal Hospital in Olympia, Washington. I was introduced to Wanda Buckner, a Healing Touch for Animals Practitioner, by a colleague at Hawks Prairie Veterinary Hospital. I feel very fortunate for this introduction. Initially, Wanda and I had the opportunity to collaborate on a few cases. My positive experiences with her work led me to schedule a weekly session together. For over one year we saw two to four patients each Thursday. Wanda provided the grounding, calming and healing energy work which allowed me to better evaluate, treat, adjust, and needle each patient
Wanda brings a quiet, peaceful presence to each session. She is thorough, professional and patient. I found that while working with Wanda, our patients healed at many levels. Together, we had several patients shift dramatically with regards to behavior. Wanda has been quite helpful in localizing hard to diagnose issues. She has also supported animals in transitions and supported humans in their relationships with animals. Her healing energy has been appreciated by dozens of souls, human and non-human during our session together.
Wanda and I have a patient named Oliver. He is a 3 year old bulldog who started seeing us for discomfort. Oliver was very fearful and anxious at the vet, hiding under a chair the entire visit. Wanda's work completely turned Oliver around. He now bounds into the vet. He is social and happy. Oliver's acupuncture treatments are easy and effective. Another shared patient was Jake. Jake was very aggressive, vocal and anxious for nail trims and acupuncture. With Wanda's help, we were able to make nail trims quiet and low key. His acupuncture sessions became enjoyable and more effective. I found Wanda helpful in diagnosis, treatment and supportive care. Her knowledge and use of essential oils, sound therapy and energetic clearing is complimentary. She is appropriate in her boundaries. She has the basic animal knowledge necessary to work in the field.
I am truly fortunate to be exposed to Healing Touch for Animals. My gratitude lies in Wanda's generosity and willingness to donate time, energy and healing to so many souls. Wanda is truly a gift to this work. I highly recommend Wanda Buckner and her work with animals.
With much gratitude. –Trisha Roisum, DVM, cVSMT

---
Sierra's story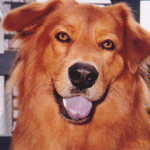 I'm writing to provide a reference for Wanda Buckner who recently helped my dog, Sierra, through a life-threatening illness. I had heard much about Wanda's work and, in quieter times, had her on my list of appointments I wanted to make. Then this summer Sierra, who was 13 ½ at the time, became seriously ill – he developed mega-esophagus, had organic matter stuck in the esophagus, developed stomach ulcers, and developed pneumonia from aspirating regurgitated stomach fluid and saliva. I took him into Summit Referral hospital here in Tacoma on Thursday, August 23. At that point we didn't know what all was wrong with him, just that he was in pain, weak, unable to hold down even the smallest amounts of water, and panting so hard I was afraid of stroke or heart failure.
The vets at Summit began working on him but, over the next two days he went further into himself and became weaker and weaker. By Saturday, no one thought he was going to make it. However, I could tell that he was fighting, that he wasn't ready to go yet and I felt my commitment to this dog was to help him live if he wanted to live. I told my regular vet, Kim Martin, that I felt Sierra's chi. Though his affect was deadened, he was fighting.
On Saturday, August 25th, Kim told me that Wanda should be contacted (she had seen Wanda pull other animals back from the edge she saw Sierra sitting on). Kim had been by to give Sierra acupuncture at the hospital. She was very concerned about how inward Sierra had turned and felt we needed to give him support. At this point I have to tell you, I can talk about what Wanda did, but this time was so stressful and blended together, I'm not sure of dates and order. I do know that I phoned and emailed Wanda (well outside regular business hours), she called me back near immediately, and she agreed to come up and do a treatment on Sierra ASAP. Over the next few weeks, Wanda did a number of both in person and remote treatments on Sierra.
Sierra was in doggy ICU with 24-hour care for eight full days. Since he has come home, all of his vets and many techs have told me they didn't expect him to survive. These are the people who deal with the sickest of the sick animals and they all expected he wouldn't make it. Within a short time after her first treatment, I saw Sierra start to come back. The vets told me the night after her first in-person treatment Sierra rested better and slept longer than he had since he had arrived. The next day, he held his head up on his own, also a first and that morning he had coughed up a great deal of the junk in his lungs first thing the next day. I noted that his eyes were more expressive than they had been. Over the next day or so, with Wanda's treatment complimenting the Western medicine, Sierra's lungs became clearer, his eyes brighter, and he became more engaged with what was going on around him. He began trying to get up and move and he was interactive with me, listening to what I was saying. From that point on, every time Wanda worked on Sierra, I saw a marked jump forward in his improvement.
I'm providing this reference letter because I know that Sierra would not have survived had Wanda not been an integral part of his healing team. Her work pulled Sierra back from the edge and provided him with forward momentum. Her work supported the Western work, supported Sierra, and provided him with the strength to help him help himself. I've never seen anything like it. When I brought Sierra home he could barely stand on his own. A walk for him was 15 feet into the yard and back. Every time Wanda did healing work on Sierra, I saw benefits within hours including increased chi, determination to move/walk further, better sleep, and, ultimately, clearer lungs. Wanda helped Sierra's energy keep moving.
In her work with us, Wanda was very professional, calm, collected, and, from the get-go, she gave me a feeling of confidence in what she was going to do for us. I watched Sierra respond to her immediately. What was interesting for me though was the stress-relief I also received, just being within the realm of her work. I fully believe in the Healing Touch for Animals work Wanda does and in Wanda herself. I've seen Sierra go from "probably not going to make it" to walking with a spring in his step for 2 miles, wagging his tail constantly, and eating and sleeping very well. Energetically – he's a star!
I'd like to reiterate that I am certain Sierra wouldn't have survived this illness without Wanda's wonderful work. I would highly recommend Wanda and plan to continue "upkeep" going forward. Wanda is quite gifted and in tune to what's necessary and at what time it's necessary. I can't speak highly enough of her and her work.
Wanda gave me a great gift in returning my boy to me. I hope I can give back to her by recommending her to anyone and everyone who finds themselves in need.–Marsha M. Evans, client
---
Huckleberry's story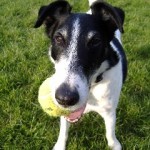 I met Wanda at a holistic animal healing "open house" that my vet put on in October of 2011. I was chatting with my dog's chiropractor, and she was saying the most lovely things about Wanda! I also spoke with my vet, who said that Wanda's Healing Touch for Animals work had made a huge impact on many of her clients' pets, so I felt very confident in her abilities, as I've known and trusted Huckleberry's vets for years. When I introduced myself to Wanda, I met the most amazing person, friend and healer I could possibly have hoped to meet!
I reached out to Wanda shortly after that evening to schedule Huckleberry's first session with her. I have had dogs all my life, and my sweet Huckleberry for 13 years. Huckleberry had more issues throughout is life then one could shake a stick at! He had been to every type of vet, therapist, chiropractor, and care provider I could find to help him overcome one thing or another. His biggest issues were allergies and two back injuries that caused him discomfort over the years.
When we finally found Wanda, I knew immediately we had found the right therapist for Huckleberry. I'd never seen him respond to a treatment like he did to Healing Touch for Animals provided by Wanda. On his very first visit, he immediately understood how to use the healing energy Wanda was offering him. He went deep within himself and soaked up the therapy.
Although Wanda let me know it might not look like much was happening, I knew immediately that he was reaping huge benefits from her skilled and knowledgeable use of HTA techniques and essential oils as well as the sound and vibrational therapies she incorporated. She explained what she was doing as she went along and shared with me what she was finding. Everything made sense, and Huckleberry clearly loved the treatment! When he was done, he'd pop up, tail wagging a million miles a minute, thank Wanda and trot off, which became his way of letting her know how much he appreciated her wonderful healing.
As time went on and my sweet boy charged through his golden years toward the next phase in his life, I continued to take him to see his Auntie Wanda. He was always so excited to get to her lovely office. After scoping the place out to ensure nothing had changed, he'd head straight back to the treatment room and hop onto the treatment table. Every time, he'd enjoy his session and he seemed to feel better and better. Even my vet said we should stop all his other treatments – he found acupuncture and chiropractic too stressful and the darn laser machine would burn him. Wanda's use of Healing Touch for Animals was much more effective in helping him to feel better, both because of the power of the therapy itself and because he loved it so much. There certainly wasn't any stress involved with going to visit Wanda!
Wanda's office is always immaculate, yet comfortable, welcoming, and homey at the same time. Her professionalism is unparalleled! In addition to being knowledgeable and effective in her techniques, she is always on time, always well presented and incredibly passionate and confident about the task at hand.
Although to some, it might not look like much is happening, Wanda's confidence in the work affords the client (the pet's person – the pet knows what amazing work she does) a great deal of confidence in her and the work. Of course, that's assuming the patient's person somehow missed the miraculous effects Wanda has on the patient.
For example, one time, when Wanda was at the vet's office assisting my vet by performing HTA while Huckleberry was receiving acupuncture (which he did NOT like), he was the best he had ever been. He literally lay there as Dr. Martin put the needles in him. We had never seen him get so much out of an acupuncture session.
As time marched on and Huck neared the end of his life, Wanda was there for us. Her supportive HTA therapy sessions benefitted all of us. Come to think of it, I always felt better after leaving a HTA session with Wanda and Huck – I'm pretty sure I was benefitting from the balancing and clearing too!
I recently had the pleasure of participating in a Healing Touch for Animals Level 1 class organized/hosted by Wanda. She is such an inspiration! After seeing the work she does, and what a dramatic impact it has on the animals I love, with her encouragement, I decided to give it a try myself! I'm so glad I did, and hope to continue my own education in this incredible healing technique.
In addition to her career in Healing Touch, Wanda is also a cornerstone of her community – participating in and organizing many volunteer opportunities for the local HTA practitioners. I can't say enough good things about Wanda. I find her inspirational, kind, talented, intelligent, professional, organized, and highly effective at what she does – all the while wearing the most wonderful smile I've ever seen.–Adrianne D Buschling (and forever Huckleberry)
---
Major's Story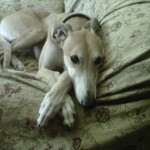 We did take Major for one session with Wanda. We were there specifically for his thunder fear. We live near Ft. Lewis and right after the 4th of July, between the neighbors and the military, Major spent more time in his Thundershirt than out of it.
So, we decided to invest the money for a session and see if HTA could help him. Wanda gave us some tips of different things to try for him also, to try to redirect his attitude toward the noises and she worked her session. Major is pretty laid back anyway, but he can get very worked up with the pacing and panting, and if we don't get the shirt on and a Benadryl in time, he can go into an episode of this for over an hour or more.
I can honestly say we haven't had an episode like that since our visit with Wanda. And we're not doing a whole lot of anything different with him. We can now get him to come down to the kitchen so we can do what we call the "yea game", giving a treat and saying "yea" whenever there's a thunder or boom. Before the session with Wanda, Major would rush upstairs to the hallway and shudder with fear, pant uncontrollably, and be completely inconsolable until he went to sleep. We haven't had that kind of reaction since our session.
At our appointment, Wanda described to us a little bit about how healing touch works with animals, and how it's based on the channeling of energy to open the flows and offer release. We went into a quiet room where we were allowed to sit and observe Wanda work with Major in the floor. It was amazing how she had him calm in a few moments, and laying on the floor willing to let her do whatever.
We have heard of different therapies being used for dogs, and we really think this Healing Touch works. At least it seems to for Major, and we were at our wits end. We were very glad to have found Wanda and Healing Touch for Animals. It's worth a try for a lot of different issues.–Lesa Pickett and greyhound Major