Does Energy Healing Have a Role With Animals?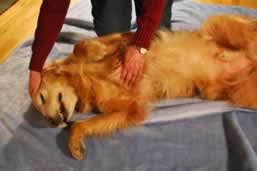 This audio of Chapter 5 of my book 
Choosing Energy Therapy 
discusses the role of energy healing with veterinary care, the limitations of energy work, and the role of energy healing in life and death situations. Also learn about the role of animals in our lives in relationship to our issues. As you listen to this audio, I invite you to reflect on your beliefs.
Would you consider energy therapy for your animal's emotional, physical, mental, and/or behavioral issues?
What are you willing to do for yourself if your issues negatively affect your animals?
What is the role of people and animals in your physical, emotional, mental, and spiritual healing?
In what ways do you influence the healing of people and animals in your life?
Topic Locations of Chapter 5
00:00
Section Two: Making Choices; Chapter 5 Healing Energy and Animals
03:39
Life Threatening Pneumonia – Sierra (canine)
07:19
Refusing Food – Georgina (Feline)
08:49
Surgery Support – Jacquimo
10:20
Limitations of Energy Healing
12:09
Environmental, Medical, or Emotional
13:22
Emotional Healing for Animals
15:42
The Animals in Your Life
17:51
Do Animals Reflect Human Issues?
21:55
Animals as Physical Healers
24:44 Are We Our Animals' Healers?
25:39 For Reflection
You may access the other chapters of my book by clicking on the links below: